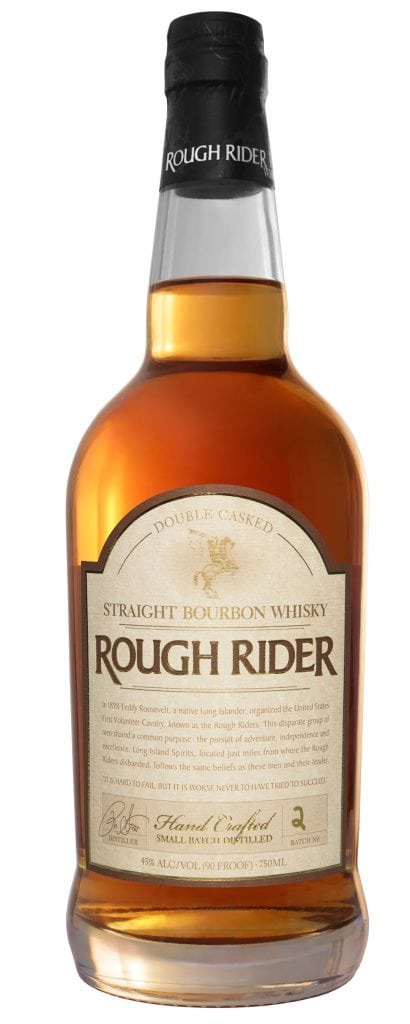 "Bright and spicy on the nose with hints of chewy caramel, milk chocolate, and toasty orange peel. The palate is round and rich with roasted peanuts, baked apricot, and dried fig flavors balanced by a nice acidity and a hint of pepper. Very nice."
- F. Paul Pacult
"Hi-Rye Straight Bourbon aged in New American Oak then finished in Ex-French Oak Brandy Casks that previously held Brandy distilled from local Pinot Noir, Chardonnay and Merlot grapes"
Awarded 94 Points in the 2016 Ultimate Spirits Competition earning it a Great Value, this High Rye Bourbon gains its delicate smoothness in our unique Reserve Aging Method. Long Island Spirits has been producing Brandies for the locally acclaimed Long Island wineries since 2008, which was the inspiration for Rough Rider Double Cask Bourbon. The Bourbon is aged New American Oak and then is finished in French Oak Ex-Brandy casks that once held brandies that Long Island Spirits produced. This refined Straight Bourbon is Non-Chill filtered and amazingly well balanced.
In 1898, Teddy Roosevelt, a native Long Islander, organized the United States First Volunteer Calvary, known as the Rough Rider's. This disparate group of men cherished adventure, independence and excellence. Long Island Spirits is located just miles from where the Rough Rider's were quarantined and then disbanded following their victory in the Spanish American War in a legendary summer they had in Montauk Point.
High Rye Straight Bourbon
Mash bill 60% corn, 33% Winter Rye & 7% Malted Barley
Extra matured in high proof local Brandy casks
Long Island Spirits produces private label Brandies for the wineries which is the source for the French Oak Brandy Casks
Non-Chill Filtered
AVAILABLE SIZES: 750ML
ABV: 45% / 90 PROOF