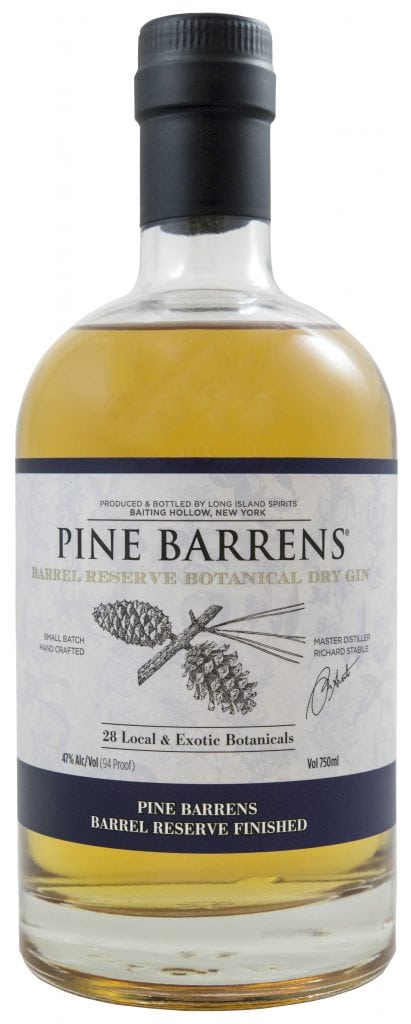 The Gin imparts delicious zesty flavors of tangerine, lemon meringue, caramel, and nutmeg.
BARREL RESERVE BOTANICAL DRY GIN
One of the Best Gins in the World
Awarded 95 Points in the 2017 Ultimate Spirits Competition, this amazing Gin begins its journey as local estate grown Long Island potatoes that are then triple distilled. The potato base spirit is brought to 191 Proof using custom 650 Liter copper pot stills and twin 19 plate copper rectification columns. The nuanced flavors of 28 local and exotic fruits and botanicals are delicately infused with the base spirit, first in the pot still and then in a custom basket inside the botanical gin chamber. A special blend of botanicals macerates in the pot still for 36 hours before the vapors of the blended spirit travel through the gin basket to infuse with the remaining botanicals. The resulting gin is then carefully finished in oak barrels that once held Pine Barrens American Single Malt Whisky. In 2017, this Barrel Aged Gin received was considered the third best Gin in the world and received a 95 Point rating from the Ultimate Spirits Competition.
Distilled from Local Long Island Potatoes
28 Fruits and Botanicals
Aged at least 6 months in X-Pine Barrens American Single Malt Casks
Non-Chill Filtered
AVAILABLE SIZES: 750 ML
ABV: 47% ALC/VOL (94 PROOF)